As if motherhood wasn't already enough of a physical and emotional challenge, returning to training after giving birth is often not easy due to several factors:
less time availability,
you have to adapt your workouts to recover your abdomen and pelvic floor,
you need clothes to help you if you breastfeed.
I'm sorry to tell you that I don't have a magic wand for the first two points, but I can help you with the bra, and save you from spending money on bras that don't work.
Are training bras suitable for breastfeeding?
Regardless of whether you have lost the extra pregnancy weight more or less quickly, it is normal that your pre-pregnancy training bras don't work for you.
During breastfeeding it is easy to increase your breast size by at least two sizes. This is enough for you to not be comfortable in your tops of yesteryear. In addition, the larger the breasts, the greater the need for support.
Even so, if you did manage to get in, the garment would normally be too tight and the moment your baby would demand you to get in:
1) to take one breast out, while the rubber band that adjusts continues to squeeze the other breast. Not only is it uncomfortable, but silly things like this make it easier to get mastitis.
2) take off your bra completely. I'm not a particularly modest person, but this option is slow and impractical.
Can you train with nursing bras?
A nursing bra that do not be sporty is not suitable for training.
I remember that after a long recovery I was eager to get back to training.
I knew that the only way I could achieve this was if my son came to train with me, since he would only be able to stay away from me for a short period of time while breastfeeding on demand.
I managed to fit into the larger sportswear I had, the kind I wore during pregnancy, but when I had to choose a bra I knew it could only be the one from breastfeedingI had no other choice. If my son couldn't breastfeed in the middle of the session, there was nothing to do.
I thought that wearing this bra would not be a problem, since I could not do impact exercises at first either.
But nursing bras don't offer the support you need. Even if your training is highly adapted, these bras do not perform the function of a sports bra and limit your workout.
Best sports bras for breastfeeding
After buying several unsuccessful H&M-type models and throwing away money because they didn't do the job, I managed to find a brand that really covered both needs in one: to be able to train and to be able to breastfeed.
Love and Fit
This American brand offers THE BRACKET you are looking for. Why it is Athena 2.0 Nursing Sports Bra my favorite?
The only downside I find is that it is somewhat expensive for what we are used to. But looking at it carefully and taking into account that training is physical and mental health, it can't be that you can't train because you don't have a good bra.
There are other things you can save on and that's why I made a list of the products we've used the most with the birth of Àxel and thus avoid buying things you're not going to use.
On the positive side, when applying the code ANABELA-LF you get a small discount 🙂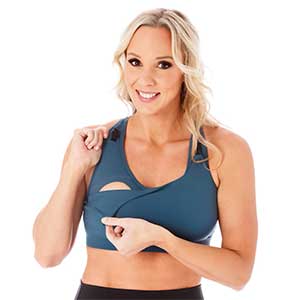 Believe me I think about it too before I buy something like this, but the money is not wasted if you are going to use it.
Maternity by Nike
In mid-2020, the sports reference brand debuted its maternity clothing line, Nike (M).
I would have loved to have been able to try her leggings when I was pregnant because it's a drag to work out in non-maternity clothes. A lot of times buying one size up is usually not enough because it looks weird on you.
In addition, maternity leggings are used more than we think a priori. We are pregnant for 9 months and it is normal that when we return to training we still need them.
But I wanted to tell you about her Nike nursing bra.
It is a comfortable bra to wear and a fabric is set aside for breastfeeding.
This bra I do not recommend it for girls with large breasts or high intensity exercise, as its support is low.
Just as I wouldn't wear the Love and Fit bra for a yoga class because you don't need to go as tight, the Nike bra is not appropriate for a workout that needs you to go tighter.
Hopefully in the future they will expand the range to include bras suitable for breastfeeding and for training in different sports.
High support from Under Armour
This bra is not advertised as a sports top for breastfeeding, but with its front-zip design it is a very good candidate.
I have had this model since I was pregnant. During this period I had a breast enlargement so the size is perfect for breastfeeding.
Comparison of sports bras during breastfeeding
| Brand | Clamping | Ease of breastfeeding | Comfort | Design | Price: | Notes | More info |
| --- | --- | --- | --- | --- | --- | --- | --- |
| Laf | High | Very easy | Do not use it if you are not training | Many colors available | 59$ | Discount code ANABELA-LF | Buy |
| Nike | Download | Easy | Comfortable even if you don't train | Elegant and wide range of colors | 45€ | | Buy |
| Under Armour | High | Easy | Do not use it if you are not training | Only two colors | 55€ | | Buy |