CrossFit and Weightlifting Training Bars
If you are considering buying a bar and do not know where to start, here we are going to solve all your doubts.
Buying a barbell for your gym, box or home is not an impulse purchase because it is not an inexpensive piece of training equipment.
In this post we will review this CrossFit and weightlifting equipment so that you get it right when buying your bar and the most important thing that no one tells you:
What you have to do to make it last a long time!
How do you know if a bar is good?
With so many options on the market and so many different prices the most important thing to look for is at least these 2 qualities when choosing a quality bar:
Bearings
It will be what allows the bar to rotate smoothly and quickly as we move through our weightlifting lifts.
The material
The type of material will allow more or less flexibility and load.
Types according to design
Most of us we train as a hobby. My recommendation is that even if there are top of the range bars of 500€ you can make your training just as comfortable with the one that does not reach 200€.The difference to acquire another piece for your gym.
From 20 kg
In competition these are for men with 28 mm diameter and double knurling for a strong grip.
It can be used for Olympic lifting as well as for powerlifting and powerlifting. WOD.
Technical characteristics
Weight: 20 kg
Load capacity: 450 kg
Material: Steel
Type of bar: Hybrid
Center knurling: No
Sleeve diameter: 50 mm
Tensile Strength: 190,000 PSI
Bearing type: 4 needle roller bearings
Coating: Hard Chrome
Knurling: medium
Distance between sleeves: 1370 mm
Sleeve length: 415 mm
Bar diameter: 28 mm
Length: 2200 mm
From 15 kg
In competition they are for women, with a diameter of 25 mm and a soft knurling to facilitate grip.
As in the men's version, it can be used for both Olympic lifting and WOD.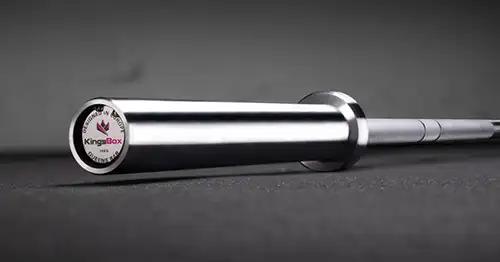 Technical characteristics
Weight: 15 kg
Type of bar: Hybrid
Center knurling: No
Sleeve diameter: 50 mm
Tensile Strength: 180,000 PSI
Bearing type: 4 needle roller bearings
Coating: Hard Chrome
Knurling: fine
Distance between sleeves: 1310 mm
Sleeve length: 350 mm
Bar diameter: 25 mm
Length: 2010 mm
Color models
For the more daring and dedicated to this sport, there are the bars with colored finishes of the bar and sleeves.
With more than 10 finishes, and with versions for women (15 kg) and men (20 kg).
Technical bar
Despite being the smaller bar We have left it for the end because it is a special bar.
This bar is normally purchased in the box for help beginners to learn weightlifting movements.
It is made with the same precision and quality as the competition bars.
It weighs only 10 kg and is usually a transition from pike to conventional C-rodrossFit (15 or 20 kg).
It stands to reason that if you plan to train at home you've already advanced to the next level where you're comfortable with your 15 or 20 kg barbell. But in any case, here are the details of this barbell.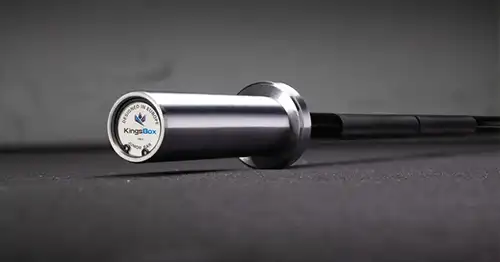 Technical characteristics
Weight: 10 kg
Load capacity: 60 kg
Material: High quality steel
Coating: Zinc
Knurling: Fine knurling
Bearing type: Bushings
Diameter: 25 mm
Sleeve length: 190 mm
Length: 1700 mm
Maintenance of the bars
With what a bar is worth, now you will understand why the coach always says....
"don't throw away the bars"
We are used to treating the bars badly, often without even knowing that we are doing it wrong.
Because it is the most common, what we see in the box, what we see in our reference athletes....
But it is never too late to learn how to use the material correctly so that they will last for many years.
Do not drop the bar
Do not drop it from any height because it is counterproductive for bearings, the most important point in order for the bar rolls smoothly.
Do not throw the bar after a lift
Do not release the bar from above unless your discs are heavy enough. Minimum one 15 kg disc per side.
If not, you have to pulse it down. At least think that it also makes you strong ;).
This advice is especially important if you train in the boxThe same bar works all day long, 5 or 6 times a week, without a break.
If the barbell is personal you can afford to throw it away sometimes, as we probably don't train with it every day and it won't be during an 8-hour long day of repeated drops.
Download without throwing it away
Also we must remove the discs from the bar at one end and let it hit the ground.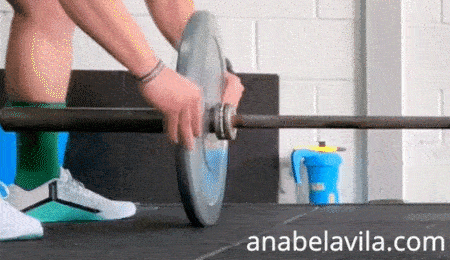 Thanks to @jose_ragnar for the videos
I have done it all my life, visited many pits and never got corrected. When I learned that I was another form of mistreatment of the bar I felt bad and thought that at least from now on I could do better.
Brushing to remove sweat and magnesium
Magnesium acts as a corrosive with the result that we must clean the bar after each session to make sure that the no rust spots will appear on the bar.
It is especially important to keep the rod clean and dry if you are near the beach because in these weather conditions the rod suffers more.
Currently, with the use of disinfectant gels, more punished bars have also been observed. The disinfectant does not help to clean the bar but continues to add more corrosion along with magnesium and sweat.
How to clean the bar on a daily basis?
It is a gesture that takes no more than 1 minute and a direct impact on the service life of the bar..
Brush off magnesium, sweat, gels... after each workout.
How to clean the bar more thoroughly?
If you train at home, remember clean the bearings every month and a half. Practically, no one knows how to maintain bearings. We explain how:
Set the bar vertically.
Aim with the spout of the special oil (link below) in the groove between the bar and the bushings.
Apply a little while allowing gravity to allow the oil to descend.
Almost instantly you will notice how much smoother the bar starts to roll again.
If the bars are used constantly throughout the day, as is the case in a box, it is recommended that this thorough cleaning be performed weekly. for a good maintenance of the material.
WD-40 Multi-Use Product - Spray...
Lubricates moving parts such as hinges, bearings, chains and...
Quickly penetrates, loosens and frees jammed, blocked and rusted parts...
If the bearing does not improve, you would have to move on to the next step of disassembly to find out where the problem is (this is not usual).
In this case, it is recommended to remove the parts and leave them in one area in order to facilitate reassembly once the bushing has been lubricated.
Is it possible to break a bar?
It is very very very very difficult to break a bar even if you don't take proper care of it. But not impossible, because the human mind is capable of some very far-fetched ideas. Never underestimate the crazy things a crossfitter can have.
Lo The most common is that neglect of maintenance is spoiling the smoothness of the bearing bushings..
Accessories
When you purchase a bar you will also need the following materials:
Closures
They are necessary to keep the weight in place.
When not in use, the bar falls with unbalanced shocks and the differences in forces damage the discs and bearings..
In addition, for safety reasons, always use the p-ring fasteners.To avoid that in an uncontrolled movement the bar could unload on one side and the weights could injure someone.
Lock jaw
Made of plastic, highly resistant.
Secure locking system.
They allow rapid weight change.
Tweezers
Diameter of 50 mm.
Material chrome-plated steel.
They are the simplest and are used as a clamp.
Bar cleaning brush
There are many types of brushes that are perfectly suited to leave the bar clean.
Quick cleaning in seconds, keeps knurling free of debris for a more consistent grip.
Easily removes rust from worn bars and prolongs the life of your bar.
Sales
Bellota 50806-A Manual Brush...
High quality manual brush for excellent performance and precision in the cleaning of...
Good performance in light cleaning areas
Magnesium
If you need a magnesium we recommend this one for:
Fast drying for maximum sweat absorption.
High adherence once dry.
It does not generate dust or stains and resists movement without losing performance.
Its components are not harmful or toxic.
You may be interested in reading the best knee pads and belts for training.
Mats for dropping the bars
Warranty: 6 Months
Color: Black
Material: Memory Foam
Width: 590 mm
Weight: 29 kg
Height: 150 mm
Length: 990 mm