The Reebok Nano 13 arrives, the first Reebok Nano 2023 CrossFit Shoe! Also known as Nano X3.
This model has not left anyone indifferent and they say that we are once again talking about a true CrossFit shoe.
This new slipper retains the stiffness and stability typical of the most classic Nano shoes. and in general of the shoes used to practice this sport.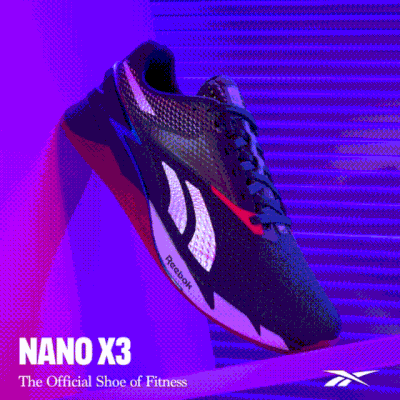 Overall, it has a tighter feel than the previous Nano X2.
Drop7mm, although by the design of it seems to be smaller when you use it.
Where to buy?
Now available in the following stores:
Front upper part
It is still a wide shoe in the front compared to the competition.
Less flexible than the previous one, but still using Flexweave material, which offers good support as well as great resistance and elasticity.
Rope Pro
We had heard from X1 and X2 users that their shoes broke within a few rope climbs.
If you look at the animation below, the Nano X2 had the sole split in 2, something that could affect it being weaker in this part and therefore easier to break.
This time the composition of the sole is denser and being a single piece, it offers better resistance to exercises that can be aggressive with the shoe.
LAR Chassis
These are the initials of Lift and Run and it is this new blue line that crosses the shoe. It goes from the metatarsals to behind the heel to get back to the front on the other side.
This new addition is a technology that is applied to the midsole making the heel firmer during heavy lifting and softer during running and jumping to provide more cushioning.
Sole
A full rubber part that is stiffer and denser than X2 and X1.
Floatride Energy Foam cushioning for a better running experience and cushioning.
Even so, the overall feel of this shoe is by far stiffer than the previous two models.
Size
In general, the usual sizing is maintained, order your usual size at Reebok, which is usually half a size smaller than Nike or Under Armour.
If you are between sizes, please note that this time the shoe is less wide than previous models.
What is the difference between Nano X3 and Nano X2?
The most important difference between the Nano X3 and X2 is the overall feel of the shoe. The X2 is a much more flexible shoe while the X3 is a stiffer shoe, typical of this sport, with a harder sole that allows you to be more "glued" to the ground.