Choosing a good top for a high-impact sport such as CrossFit is essential. It is no longer just a matter of aesthetics, but of comfort and functionality for your workouts.
If you are a girl who does not have large breastsyou are lucky in this respect because in the market there are plenty of beautifully designed and modern bras to choose from.. Practically any bra will do for your purpose.
If otherwise you are a girl with more chest you may already know that it gets a little more complicated. That's why I will give you my recommendations to find your ideal top.
Fasteners for wods
It is important that a good bra fulfills its main function: to support. It must also be comfortable and fit well.
In CrossFit we do high impact exercises such as double unders, running, box jumps... imagine if you are not well prepared.
You should pay more attention to choose a good sports bra when we talk about doing high impact training. It is necessary that you have a bra to match the intensity of your training to ensure that it does not limit you.. A top that is not supportive enough will feel like it bounces excessively or doesn't even stay in the top.
Molded cup bras
My favorite type of bra is one that is shaped to the shape of the breast and therefore does not simply support by compression. They have wide adjustable straps and a special fabric for increased breathability. The coverage is wide and the chest feels tucked in.
It used to be that these types of bras with the most support were the least "pretty", but that is now history.
NIKE high support bras
Under Armour high impact
A not very commercial brand but very famous among sporty girls with a large chest size. You can see the opinions (almost 3000) that rate this bra very well.
You will see that I have not recommended Reebok bras and despite having a selection of "high impact" I do not think they are as suitable as the ones mentioned above.
Undoubtedly, if you are a girl with a large chest you should choose one of these models, unless you plan to do a yoga type class and you can wear some of the bras below.
Classic bras
There are other types of tops with a classic design that still offer medium support. Unlike the previous ones the support is mainly by compression of the chestbut they do not have the shape of the cup.
Under Armour medium support bras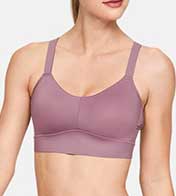 NIKE medium support bras
Reebok bras
Some of the bras that appear in the selection of medium support with very thin straps, do not seem to me suitable for this section and personally I would include them in low support, to do yoga type activities.
Stretch bras
If you spend your days in sportswear like I do, you'll have noticed that wearing a high support bra for so many hours is not comfortable at all. It increases the pressure on the trapezius and it bothers you to be so tight. That's why I always carry an extra bra in my backpack and switch from high support to medium/low when I need it.
All in all, one more bulge in the huge backpack we crossfitters carry is no longer noticeable 😉 and it's worth it. When you've been wearing a high-support bra for a long time and you switch to a light hold you feel a great sense of relief.
Low support bras do not fit as tight and have thinner straps. The designs are more open, daring and eye-catching.
Under Armour low support
NIKE low support bras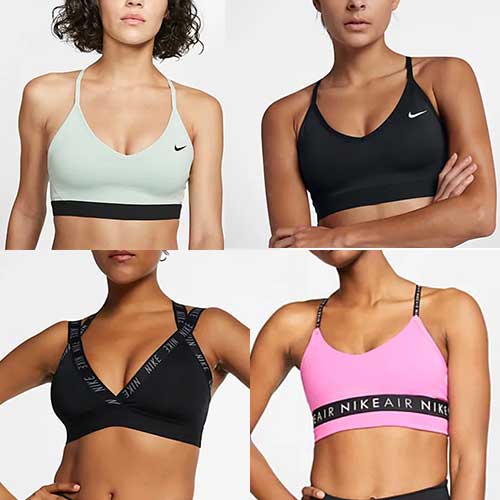 Reebok low impact bras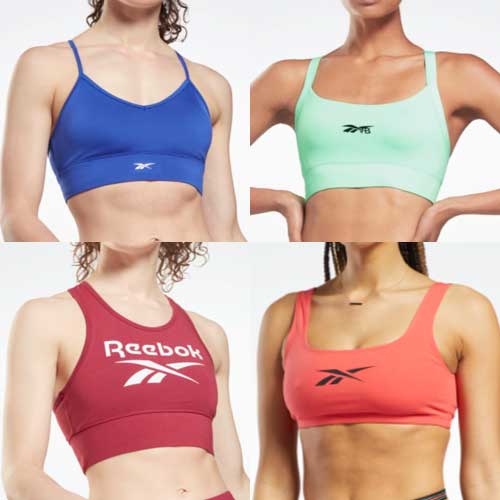 I hope I have been able to help you in choosing a good bra so that you have nothing to stop you in your workouts.
If you have also ventured into the adventure of motherhood, I recommend reading this post in which I deal specifically with the sports bras for breastfeeding.