One of the most known crossfit athletes on the international scene is Brooke Wells.
Brooke's Biography
Date and place of birth: July 14, 1995 in Missouri, United States.
Height: 1.67 m
Weight: 68 Kg
Instagram: brookewellss
Coach: Mat Fraser
Her twin sister Sydney Wells also competes in CrossFit.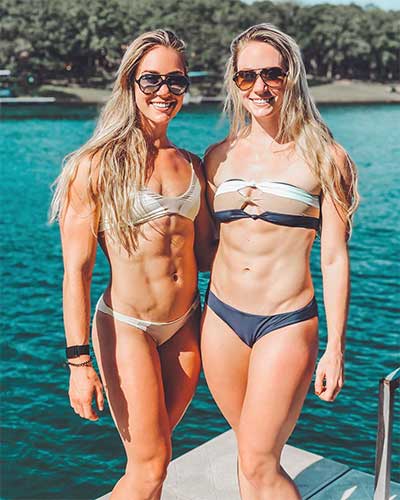 2023
She announces her departure from PRVN in favor of Mat Fraser's HWPO. The athlete does not specify the reasons that led her to change programming.
North America East Semifinal
She finishes 14th and fails to qualify for the CrossFit Games. Her sister, Sydney, would make it to Madison for the first time.
2022
She declines her invitation to the ROGUE Invitational 2022 without specifying the reasons.
Brooke Wells and Ellie Turner team up with Tia-Clair Toomey to compete in the Down Under Championship in Australia in November.
CrossFit Games 2022
Becomes the 5th fittest woman on earth at the CrossFit Games 2022.
She qualified for the CrossFit Games after placing 4th in the Mid-Atlantic CrossFit Championship Semifinal.
An emotional Wells recalled how hard this year had been after having elbow surgery only 9 months ago.
She started Saturday being 24th in event 3, but managed to finish the competition 1 and 2 points ahead of the 5th and 6th place finishers.
2021
She suffers an injury at the 2021 CrossFit Games during the snatch PR event, which forced her to withdraw from the competition. Brooke was one of the candidates to win the event as she had the highest snatch personal record.
Punched her ticket to the 2021 CrossFit Games by placing 3rd at the Mid Atlantic CrossFit.
2020
Joins PRVN
After the 2020 Games, Brooke announced a big change in her programming and joins PRVN, whose founder and head coach is Shane Orr ( Tia Toomey's husband)
CrossFit Games 2020
She manages to become one of the five women to participate in the on-site phase of the 2020 Games at the Ranch. However, she finished in 5th position.
CrossFit Games 2019 Penalty
Her path at the 2019 Games was cut short in the Sprint test. Athletes had to run a certain distance while overcoming obstacles. They were required not to step on the lines that delimited the lanes.
Brooke stepped on a line and was penalized with a 10-second.This is exaggerated when the differences between athletes in a race of this type were only hundredths of a second. We could see Brooke burst into tears when she realized that her participation in the Games was over.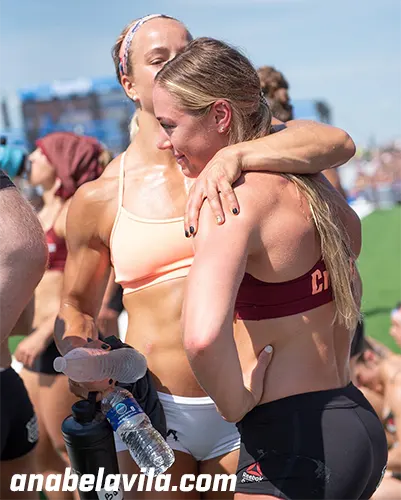 2016
She returned to the Games in 2016 with a 6th place finish. Managed to qualify after being 3rd at Regionals. 👍🏻.
2015
It was the year that Brooke became known internationally. At only 19 years of age, she qualified for Games in the Central Regional.
| Year | Position | Competitions | World Open |
| --- | --- | --- | --- |
| 2022 | 5th | 4th Mid Atlantic | 5th |
| 2021 | | Miid atlantic 3rd | 9ª |
| 2020 | 5th | | 11ª |
| 2019 | 16ª | TOP 20 World | 6ª |
| 2018 | 8ª | 1st (Central) | 6ª |
| 2017 | 14ª | 4th (Central) | 9ª |
| 2016 | 6ª | 3rd (Central Regional) | 19ª |
| 2015 | 16ª | 1st (Central Regional) | 43ª |
| 2014 | - | 5th in team | 103ª |
| 2013 | | | 1232ª |
Student at the University of Missouri, before CrossFit, Brooke was a steeplechase runner with good marks in 100 and 300 m.
Brooke started playing sports at a very young age. Her father always wanted both sisters to practice any sports. The day came when she wanted to become a member of a gym where his friends trained, but his father insisted that she should sign up in a CrossFit box :
I know what you're going to do at the gym, you're going to be talking and socializing all the time. So, either you join CrossFit, or nothing!
Stage with B
en Bergeron
After placing 16th in 2015, the athlete achieved a 6th place finish in 2015, something that led her to believe that 2017 could be a year to step on the podium. However, that year hes weaknesses came to the surface and could not finish higher than 14th place.
It was then that she decided to make changes so that she would not just be known for being a good athlete at weightlifting WODs .
It was after those Games when she joined Ben Bergeron's team to become a more complete and balanced athlete.
Personal bests - benchmark statistics
| Movement / WOD | Stats |
| --- | --- |
| Back Squat | 156 Kg |
| Clean | - |
| Clean & Jerk | 115 Kg |
| Snatch | 97 Kg |
| Deadlift | 193 Kg |
| Fran | 2:06 |
| Grace | 1:13 |
| 5k run | - |
| Pull-ups | |
The athlete acknowledged that training with Bergeron means training with some of the best athletes in the world and strengthened her relationship with Katrin Davidsdottir.
Brooke Wells Couple
Wells is not currently known to have a romantic partner. Previously, it had been rumored that he might be Alec SmithBut all this was discarded when the athlete announced on his Instagram that he was gay. He jokingly added, "Sorry Brooke Wells!"