Elena Carratalá is a Spanish CrossFit athlete who came second in the 2019 Open. In addition, her name is a regular in both national and several official CrossFit competitions.
Biography
Year and place of birth: March 25, 1994, Villavieja (Castellón).
Height: 1.63 cm
Weight: 62 kg
Instagram: @_helencarr_
From the age of 5 years old, and before learning about CrossFit, Elena competed in track & field. At the age of 9, he changed sports to dedicate himself to the equestrian At the age of 21, Elena set foot in a box for the first time.
Sports results:
Last Chance Qualifier 2022
A few days after winning the French, Carratalá surprises the entire community, finishing second in the the play-off and becomes the first Spanish athlete to qualify for the Games under the new system.
French Throwdown 2022
He makes history by becoming the first Spanish athlete to win this event.
He was very consistent throughout the weekend and did not relinquish the lead after the first day.
The prize is €12,000, more than double that of the Semifinals (5,000$).
Wodapalooza 2022
His coach told us that he was coming into the competition at 60 - 70% of his capabilities due to a long-standing injury.
An ischial edema that causes various problems in adductors, tensor, vastus internus and externus.
He went 3 months without doing squats and lost a lot of muscle mass.
He was consistent throughout the competition, except for one wod with thrusters in which he suffered from his injury, but still managed to finishing in 20th position.
8th in the Open 2021
Wins Open 2021 in Spain and ranks 8th worldwide. It is the first time that a Spanish athlete has placed TOP 10 in an Open.
She advanced to the Quarterfinals but finished 7th in the Lowlands Throwdown Semifinal. She plays for the pass in the Last Chance Qualifier.
In 2019, she becomes the first Spanish athlete to stand on a podium in an official competition after finishing second in the Pandaland CrossFit Championship. There were hopes that the winner would decline the invitation because she is an athlete who used to go in a team, but for the moment it seems that she has accepted and will not pass to Elena.
Year
CrossFit Games
Regionals / Competitions
Open Spain
2016
133ª
2017
58ª
2018
23ª
2019

Wodapalooza as a team
Strength in Depth
Reikjavik CrossFit Champ
Lowlands Throwdown
French Throwdown

2ª
2020
2nd Pandaland CrossFit
2ª
Over the past 2019 season, we have seen Elena qualify and compete as an individual and team in a multitude of sanctioned events. Both in Europe: Strength in Depth (London), Reykjavik CrossFit Championship, Lowlands Throwdown (The Netherlands) and French Throwdown... as in the Wodapalooza Festival in Miami.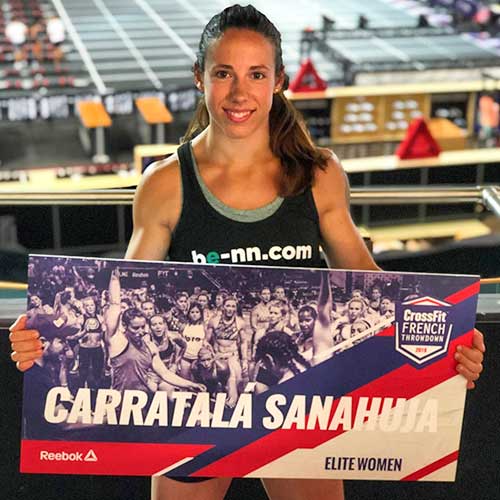 Personal stats
| Movement / WOD | Stats |
| --- | --- |
| Back Squat | 126 Kg |
| Clean | 115 Kg |
| Clean & Jerk | 105 Kg |
| Snatch | 90 Kg |
| Deadlift | 160 Kg |
| Fran | 2:16 |
| 5 k | 22 min |
Open 2020
In October 2019 we traveled to Vilareal to record Elena doing the CrossFit Open 20.1 at CrossFit 4 Friends. We were able to interview and see how he lives the hours before one of the most important events of the annual calendar.
Training
Elena says she likes to have a daily schedule of classes, training and rest. She follows this guideline to the letter and it helps her to rest knowing that all areas of her performance are studied to maximize her performance.
Your training program is Smart Programof Javier Peris.
Diet
Carratalá works with Fernando Diaz who is responsible for drawing up nutrition guidelines.
Physiotherapy
We also know his physiotherapist Víctor Iborra who often accompanies them to competitions in order to offer them the support they need.
Sports psychology
Since the beginning of 2019, Elena has been supported by Mighty Minds. Guillermo Higuero is the sports psychologist behind this method that helps athletes maximize their concentration in the wods.
Family Curiosities
Elena says that her first CrossFit fundamentals class was with Javier Peris. From that moment on, they got to know each other better and currently Javier is her husband and coach.
Javier is the creator of the Smart Program training platform, which is also followed by other top athletes in Spain such as Fabián Beneito, Damián Martínez...
It has a twin sister of which she says they are night and day. Elena is the more reserved of the two, while Ana is the more extroverted.