Haley Adams went from CrossFit up-and-comer to competing with the sport's elite.
In just two years, her trajectory was meteoric. She sneaked into the finals of the 2019 Games, where only 10 athletes made it, and it doesn't look like it was luck, as the athlete again qualified for the finals of the 2020 Games, where only 5 athletes in total were competing.
The American CrossFit athlete won the 2018 CrossFit Games in the teen category.
Age: 19
Height: 1,70 m
Nationality: American
Place of birth: Lexington, North Carolina
Weight: 63.5 kg
Instagram: haleyadamssss
Affiliate: CrossFit Mayhem
Adams is part of the first generation of athletes known as CrossFit natives. This is the name given to those CrossFitters who have not had a professional career in another sport.
CrossFit was officially founded in 2000, just a year before Adams was born. The first CrossFit competitions were held in 2007, and athletes like Mat Fraser and Tia-Clair Toomey came from other disciplines such as weightlifting and running. However, Adams has grown as an athlete by dedicating herself exclusively to CrossFit.
2023
Not participating this season
The athlete has announced on her Instagram account that she will not participate this 2023 season.
"I will be stepping away from competing this season and, as sad and difficult as it is to make this decision, I am equally excited to find out who Haley is again. I will use this time to work on myself, both mentally and physically, so that I no longer hold myself back. This isn't just a new chapter, it's a new book. The return of 2024 is going to be big."
Leaves Mayhem
Leakage of athletes in Mayhem. After Andrea Nisler and Taylor Williamson announced their departure from Mayhem, we have learned that other athletes such as Argentina's Sasha Nievas and Haley Adams are leaving Cookeville.
Haley has shared a story on Instagram which reads:
"Being alone is better than being with people who don't value you."
Other signs of this outcome:
Mayhem has released a video from Games 2022 and Haley does not appear.
Mayhem is deleting comments asking about Haley.
Haley has unfollowed Mayhem on Instagram.
2022
Strength work
Adams has decided not to participate in any off-season competitions (ROGUE Invitational and Wodapalooza 2023) to improve one of her biggest weaknesses, weightlifting.
CrossFit Games 2022
Despite a good start in which she won the first WOD on the bike and took the leader's jersey, she ended up in 9th place.
Syndicate Crown
She won the first edition of this Semifinal, which earned her a ticket to the CrossFit Games. She did not get off to a good start with a 23rd place in the barbell complex, but was in the top 3 in the other 5 events.
Wodapalooza
She started the year competing on a women's team with CrossFit Mayhem teammates Andrea Nisler and Taylor Williamson at Wodapalooza 2022. They finished second with 3 event wins and top 4 finishes.
2021 – 5th in the CF Games
Finished 5th in the 2021 ROGUE Invitational.
Finished 5th at the NOBULL CrossFit Games 2021. She continues to show notable weaknesses in weightlifting, which penalizes her in the final score.
Her second place finish at Mid Atlantic CrossFit 2021 earned her a pass to the CrossFit Games 2021. She was the closest competitor to the "unbeatable" Tia Clair Toomey.
In this competition she improved her snatch mark and her new PR is 84 kg, previously set at 82 kg.
2020 – participates in the most exclusive Games in history
After the on-site phase of the Games at the Ranch becomes the 4th fittest woman in the world.
She participated with an ankle injury to which she added an intestinal virus after the first day of competition. She spent a very difficult first night without eating or getting enough sleep.
We learned all this after the competition and the athlete never used it as an excuse. She continued to fight and give 100% in every event. We saw her bleed a lot after hands open on the pull-ups of the last WOD, Atalanta.
Seeing her in the games with those bloody hands and all she accomplished. She's a psycho.

Rich Froning - Haley's coach
Injury before Games 2020
2 weeks before the CrossFit Games, Mayhem held a fundraiser and Haley participated in the trail run, knowing it might be a little risky.
Unfortunately, Haley tore ligaments in her ankle and thought she would not be able to compete in the CrossFit Games.
Adams competed in the online phase of the CrossFit Games 2020 and qualified for the in-person finals, where only 5 spots were available.
2019 – Made it through the final cut
Adams finished 6th overall at the CrossFit Games in her first year competing as an individual elite athlete.
One of her weak points is weightlifting. We were able to see it on event 8, a clean ladder, at the Games 2019. The first weight presented to the athletes was 97.5kg.
Adams did not even attempt the lift, convinced that she could not lift the weight and probably preferring not to risk the rest of the competition.
2018 – Fittest Teen on Earth
In October 2018, her coaches recommend a move to Cookeville, Tennesse, to join the CrossFit Mayhem team owned by CrossFit legend Rich Froning.
The 2 reigning champions of the Games, Mat Fraser, Tia Clair Toomey, and other top athletes from around the world were also living and training there.
In 2018, at the age of 17, she becomes The Fittest Teen on Earth after winning 9 out of 11 CrossFit Games events in the youth category. She then dared to claim that in 5 years she would win the adult CrossFit Games. If her prediction comes true, Haley should be the winner of the CrossFit Games 2023.
2016 – 2017
Adams finished second in both years in the Teens category of the CrossFit Games.
Adams Stats
| Movement / WOD | Stats |
| --- | --- |
| Back Squat | 115 Kg |
| Front Squat | 104 Kg |
| Clean | - |
| Clean & Jerk | 93 Kg |
| Snatch | 79 Kg |
| Deadlift | 136 Kg |
| Fran | - |
| Grace | - |
| 5k run | 20:04 |
| Pull-ups | - |
Results
Year
CrossFit Games
Competitions
Open
2022
9ª

1st Syndicate Crown
2º Wodapalooza (Team)

3ª
2021
5th
2nd Mid-Atlantic CrossFit
10ª
2020
4ª
5th Wodapalooza
32ª
2019
6ª
2nd Reykjavik
7th Strength in Depth
32ª
2018
1st (Teen)
11th Regionals
2nd (Teen)
2017
2nd (Teen)
14th Regionals
1st (Teen)
2016
2nd (Teen)
1st (Teen)
Who coaches Hayley Adams?
The American athlete works with several coaches:
Tasia Percevesz
Within RichFroning's Mayhem factory, Tasia is the person in charge of following up on Adams.
We have seen her accompany the athlete to all competitions and she is the person who manages her programming.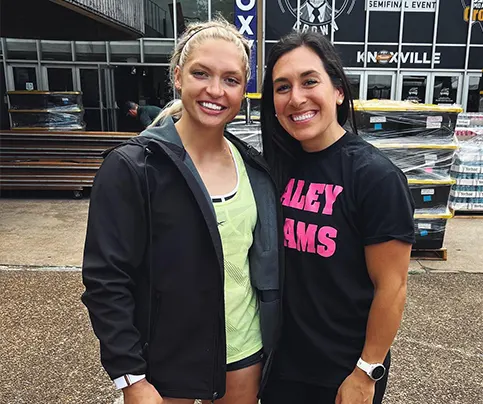 Chris Hinshaw is another of her coaches. We know him for specializing in aerobic capacity and coaching athletes such as Fraser, Khrennikov, Froning and many more.
Hinshaw comments, "Haley is a very well-rounded athlete because of the way she has trained over the years and this makes it easy for her to see her progress. She is able to follow programs at the level of the greatest athletes and her attitude makes her one of the best athletes in the world. Adams wants to train, loves to train and is not afraid of getting hurt."
Bullying at school
Adams had to drop out of school because of derogatory comments from boys about her muscularity. According to the athlete's account at school they would grab her biceps and tell her that girls shouldn't have muscles. "I didn't want to be in that environment for another minute, so I left."
It was then that she decided to continue her studies online.