Jayson Hopper is an American athlete who broke into CrossFit after winning the Mid Atlántic CrossFit Challenge 2021 Semifinal.
His popularity exploded and he became a potential candidate to win the CrossFit Games.
Age: 25
Height: 1'85 m / 6'1¨
Place of birth: Lexington, South Carolina
Weight: 100 kg / 220 lb
Instagram: jhopper3
Affiliate: CrossFit Crash
Trainer: Mathew Fraser
Region: North America East
Weakness: Legless Rope Climbs
2023
Wodapalooza
Participate as a team with Good Dudes along with James Sprague and Dallin Pepper, finished in 4th place. He did not compete in the individual edition.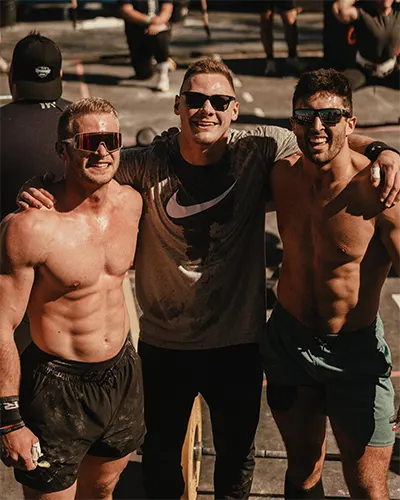 2022
ROGUE Invitational 2022
He won the first event called the Texas Trail, a vest running event that was not broadcast live.
Despite his good start, he was last in the second event and finished the competition in 7th place.
CrossFit Games 2022
Ternina in 7th position.
After the first 3 events he was in 32nd position. The 4th event scored double points and Jayson was 4th and 8th so he moved up to 16th overall.
He is facing the Husafell again and improves his performance compared to the previous year. He was 5th at The Capitol, where he had to carry this heavy sand bag on the last leg.
Syndicate Crown
He earned his spot to CrossFit Games 2022 at the Syndicate Crown. This time Justin Medeiros took the win and Hopper was 2nd.
Wodapalooza 2022
Finished 11th in the individual category.
Of course it's not the ending I wanted, but I leave with a lot learned and a long list of things to keep working on. Although I made some mental mistakes that cost me a lot of time, I have a lot to celebrate. Each event was amazing in its own way and doing it in Miami is something I will never forget. I'm sure I'll be back for more fun.
The sandbag appeared again, but this time it had a better result.
2021
Joins Mat Fraser's HWPO programming.
CrossFit Games 2021
He finished 19th in his first participation in the top competition.
Obviously there were a lot of expectations of me that were not met. I'm fine with that. I have nothing to prove to anyone. I know those closest to me are proud.

As a rookie, I'm proud of the way I fought even when I took some hits. I had so many things thrown at me this week that I wasn't prepared for that unfortunately showed up on the biggest stage.

It won't happen like that again. That I guarantee. I learned a lot about myself and this sport that I'm looking forward to applying in the next year of training.

Other than that - very frustrated with the result. Not because I felt I let anyone down, but because I wanted to win for myself. The best has always been my standard and that will never change. I'm leaving Madison today with more gusto than when I came here and that makes me excited for the days ahead - brighter days ahead!
We saw Hopper suffer a lot with the Husafell Sandbag in event 5 and he came to the finish line with a lot of difficulties.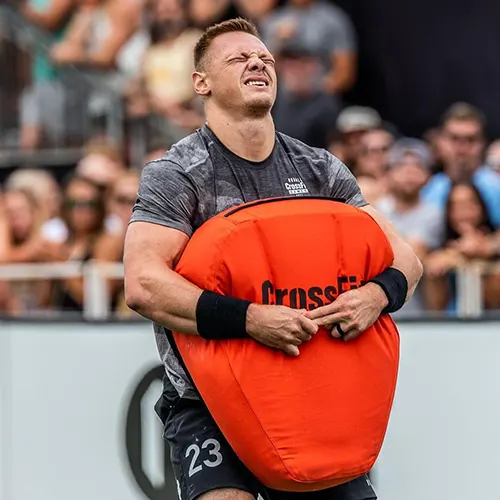 Nike
He announced he was joining the Nike athlete team by posting a photo featuring a handwritten note from Mat Fraser with the five-time champion's special edition Metcons.
"Welcome to the Nike team! I'm thankful that our paths have crossed and excited to see what you do in your rookie year. You have all the tools to have a very bright future in CrossFit, it's up to you to do something about it. The people in your life are there regardless of the outcome, so make sure you go out there and make yourself proud. above all, hard work pays off!"
Participated in a CAMP with PRVN, prior to the 2021 Games.
Mid Atlantic CrossFit Challenge 2021
We met him for the first time in this competition where he finished in first position at only 4 years old in this sport. Justin Medeiros was 3rd.
The athlete acknowledged that beating some of the best athletes in the sport was a huge confidence booster for him to believe he could be at the top.
Hopper's performance captivated Mat Fraser himself, who would later become his coach.
2020
It was to participate in the Sanctional Atlas Games in Canada, but was finally cancelled.
That year, an unknown Justin Medeiros won the Sanctional Filthy 150 and Hopper was hoping to pull off an upset as well.
Brands
| Movement / WOD | Stats |
| --- | --- |
| Back Squat | 215 kg / 475 lb |
| Clean | |
| Clean & Jerk | 177 kg / 390 lb |
| Snatch | 136 kg / 300 lb |
| Deadlift | 249 Kg / 550 lb |
| Max Pull-ups / min | -- |
| Fran | 2:15 |
| Grace | 2:00 |
| Helen | -- |
| Filty 50 | -- |
| Sprint 400m | 0:52 |
| 5k run | 19:00 |
History before CrossFit
Before CrossFit, he played baseball, but ended up quitting for football. The best team he ever played for was the Clemson Tigers of Miami.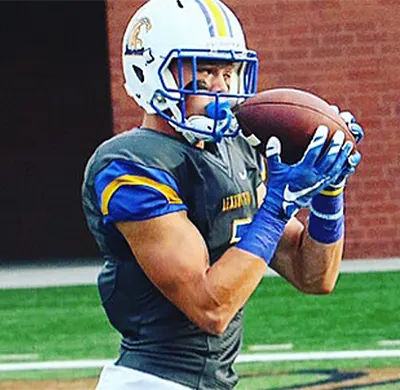 At this time, his workouts included sprints, running, weightlifting movements such as cleans, squats and bench presses. The intensity was not very high but the intention was always to gain muscle mass.
He took a year off and decided to try CrossFit to stay in shape. He immediately fell in love with the competitive side of the sport. A year later he returned to soccer but realized he liked CrossFit better.