Tia Clair Toomey is a CrossFit athlete with the longest track record in the sport.
Her titles are the fittest woman on the planet, proclaimed in the CrossFit Games 2017 - 2018 - 2019 - 2020 - 2021 and 2022.
Biography
Date of birth: July 22, 1993
Place of birth: Queensland, Australia
Residence: Nashville, United States.
Height: 1,63 m
Weight: 58 kg
Instagram: @tiaclair1
She has been living in the USA since 2019. Place where she founded her training programming business, PRVN.
2022
Announces pregnancy
On December 24, Toomey announces on her Instagram that she is pregnant.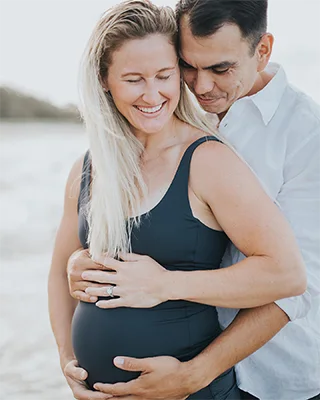 This means that he will not be able to compete in 2023 and we will have a new fittest on earth after 6 years.
After the Games Tia started to gain some weight, but that did not surprise her because it is usual for her in the off sesaon.
Instead, what set off the alarm was that he felt very tired and emotionally unstable.
They went to the doctor thinking she was suffering from adrenal fatigue from the Games and that's when they discovered she was actually pregnant.
Although for them 2023 was going to be the fight for the 7th title, when they heard the news it completely changed their objective.
Now she is asked if she will return to the Games after becoming a mother, and she answers that "it will be seen"He wants to prioritize his family.
Tia expects to give birth in early May.
No participation in Down Under Championship
Just 2 days before the start of the Down Under Championship, Tia Clair Toomey posted in her stories that her team is forced to drop out of the race without specifying the reason.
However, she could be the one causing her to leave after sharing that, "I feel like I'm letting a lot of people down."
Her teammates were Ellie Turner and Brooke Wells.
Doubt for Rogue Invitational
In Tia-Clair Toomey's latest video, the athlete confesses that she had a serious back injury just before the CrossFit Games that affected her training. Two weeks before the Games Shane and Tia had doubts about whether she would be able to compete.
She is going to take the off-season easy without lifting heavy bars, moving around a lot, rowing, biking and whatever it takes to make sure her back doesn't hurt, and she recovers in the best condition.
In the same video, Shane assures that they still don't know if Tia will be able to compete in the ROGUE Invitational which will be held next October 28-30. In fact, the Rogue Invitational instagram account has not yet confirmed the Australian athlete and has confirmed Medeiros, Khrennikov, Horvath...
CrossFit Games 2022
Despite not having the best start and being in 9th place after the first day, Tia Clair Toomey managed to recover and regain the leader's jersey after the third day. From that moment on, she would not leave the first place in the leaderboard at any time.
With this victory she becomes the first individual athlete to win 6 CrossFit Games titles.
Commentator Sean Woodland revealed live on air that the Australian had plans to retire after this edition, however, when asked, she replied: That's the question, we'll see.
Torian Pro
She gets her invitation to the CrossFit Games at the Torian Pro semifinal held in Australia.
Won all 6 events that with an incredible performance.
Qualifies for Beijing
She qualified for the Beijing Olympics with teammate Ashleigh Werner. According to the sport's rules, Toomey's place in the luge can be rotated among other teammates.
Although she manages to qualify the team through the competitions in which she participated by traveling all over Europe, the team ends up choosing someone else to compete in the Olympics.
2021
ROGUE Invitational
She repeats as winner of the ROGUE invitational with another spectacular exhibition.
5th consecutive title of Fittest on Earth
Toomey is not satisfied with being the best female CrossFit athlete and accepts the invitation of the Australian federation to train with the Bob sled team.
She wins the 2021 ROGUE Invitational, despite rumors that strong and high volume events might not benefit her.
She becomes the winner of the NOBULL CrossFit Games 2021 wearing the leader's jersey throughout the competition. Won 9 of 15 events and wins its fifth consecutive title tying with Mat Fraser in its category.
Accumulated a total of 29 events won at the Games, breaking the record which until then belonged to Mat Fraser.
She smashed the Mid-Atlantic CrossFit and her victory allowed her to qualify for the NOBULL CrossFit Games 2021.
When her training partner Mat Fraser retires, Tia decides to leave Cookville, the home of Froning, to expand her PRVN programming business.
2020
Winner of the CrossFit Games for the 4th time.
Once again, she was proclaimed winner of the CrossFit Games held at the Ranch, adding 4 consecutive titles.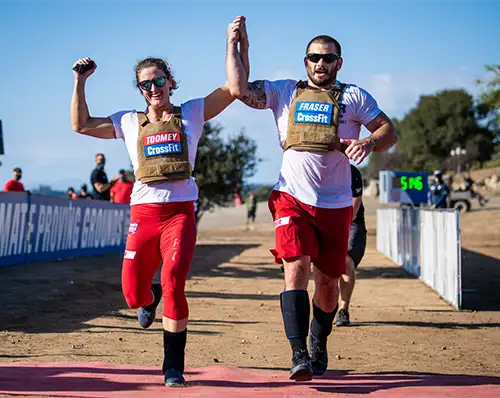 Qualifies for the in-person stage of the CrossFit Games 2020 winning 6 events in the online phase and becomes a clear favorite to renew the title.
In June 2020 she wins the ROGUE invitational 2020, that year the competition had an online format.
She started 2020 winning a home competition, the CrossFit Mayhem Classic, without giving any chance to any of her opponents.
2019
3rd consecutive title for the fittest woman on the planet
To date, other female teammates had won the CrossFit Games twice, but no woman had won three times.
Toomey becomes the first woman to win the CrossFit Games 3 times in a row.
The Australian decides to sell his box in Australia to move to the U.S.. This decision is made in a year when athletes must use sanctioned events around the world to qualify for the CrossFit Games.
2018
Vew CrossFit Games wins again
During that year there was only one athlete, Laura Horvath, able to make things difficult for her at the Games 2018. The Hungarian took away the leader's jersey for a day.
2017
Won the Games for the first time
After finishing on two consecutive occasions on the 2nd step of the podium, the Australian finally climbs to the top. With the Games 2017 the Australian athlete's era in the sport begins.
That year is only 2 points behind her Australian compatriot Kara Saunders (Webb)in a final that brought the entire stadium of the Alliant Energy Center in Madison to its feet.
2016
Parallelism with Fraser
For the second time, Toomey remains in the 2nd place in the Games 2016. Although it looks like a good result, it left her very disappointed.
Her story has great parallels with that of Mat Fraser. Two consecutive years on the second step of the podium marked a before and after in her career.
Just a couple of weeks later, she competed in weightlifting at the Rio de Janeiro Olympics. Her marks were 82 kg in snatch and 107 kg in clean and jerk.
2015
Games debut
Toomey participated for the first time in the Games and came in 2nd place. He also won the "Rookie of the Year"(rookie of the year), an award given to the highest ranking among athletes competing for the first time.
Tia's track record
Year
Games
Regionals / Competitions
World Open
2022
1ª
1st Torian Pro
2ª
2021
1ª
1st Mid Atlantic, 1st Rogue Invitational
1ª
2020
1ª
1st Wodapalooza
1ST ROGUE
1st Mayhem Classic
4ª
2019
1ª
TOP 20 World
1st Wodapalooza
1ST ROGUE
6ª
2018
1ª
1st (Pacific)
12ª
2017
1ª
2nd (Pacific Regional)
18ª
2016
2ª
2nd (Pacific Regional)
82ª
2015
2ª
3rd (Pacific Regional)
63ª
2014
241ª
2013
5954ª
Events won in CrossFit Games
Year
Event
2022
Shuttle to Overhead B
Up and Over
2021
Event 1
Event 2
Event 3
Event 6
Event 7
Event 11
Event 12
Event 13
Event 15
2020
Friendly Fran
1RM Front Squat
Damn Diane
Awful Annie
2007 Reload
Cornsack Sprint
CrossFit Total
Toes-To-Bar/Lunge
Snatch Speed Triple
Bike Repeater
Happy Star
Swim-N-Stuff
Sprint Sled Sprint
2019
First Cut
Split Triplet
Clean
Swim Paddle
The Standard
2018
CrossFit Total
Madison Triplus
2017
Run Swim Run
Muscle-Up Clean Ladder
2016
Ocean Swim
Suicide Sprint
Personal stats
| Movement/WOD | Stats |
| --- | --- |
| Back Squat | 150 Kg |
| Clean | - |
| Clean & Jerk | 122.5 Kg |
| Snatch | 87 Kg |
| Deadlift | 178 Kg |
| Fran | 2:13 |
| Grace | 1:21 |
| 5k run | |
| Pull-ups | 50 |
Tia Clair Toomey's book
The athlete wrote a book about how she became the fittest woman on the planet.
Among other things, she explained that although she was clearly a good candidate to win the CrossFit Games, she still had something very important to do. Her physical qualities were undisputed, but she still had to do a change in her mind, and move to a much more positive mentality.
Sales
Husband
Shane Orr is Toomey's husband and trainer.
There are many people who are surprised to see Tia's success with her husband as coach. It is hard to understand that the same person has these two roles that can be so contradictory, but no doubt they have found the perfect formula.
PRVN, Toomey and Shane's programming
Proven is the English term that could be translated as "demonstrated". Athletes who win the Games receive T-shirts with their place (1,2 or 3) and the word PROVEN. A way of saying that they have proven their worth.
Both are owners of the PRVN training platform where they train athletes such as: Brooke WellsWill Moorad, Saxon Panchik and Alec Smith among others.
Nutrition of the fittest woman on the planet
Tia recognizes that nutrition is the hardest part of the whole preparation process for competitions. To have an optimal performance at this level of competition without a doubt you must follow a diet based on real food.
The Australian admits that it is a struggle for her because declares himself to be a junk food lover.