Eric Roza, new owner of CrossFit
The first time we heard Eric Roza's name was to learn that he was acquiring the CrossFit brand.
Age: 52
Place of residence: Boulder, Colorado
Height:1,75m
Weight: 73.5 kg
Instagram: @rozaeric
Twitter: @RozaEric
Position in CrossFit: Board Chairman
Who is Eric Roza?
Eric Roza is the new owner of the CrossFit brand since June 2020 when, after the incidents that occurred with Greg Glassman, he decided to buy the company together with an investment group.
How much was CrossFit sold for?
The cost of the transaction could have been US$200 million, although there is no official confirmation.
2022
Mr Don Faul is appointed as CrossFit's new CEO.
2021
Suffering from depression
In an email to the entire company and affiliates, Eric openly acknowledges that he is in treatment for depression.
The aim of that mailing is to normalize this disease so that others can share their situation and seek treatment if necessary.
Team,
As some of you may have noticed, I have not been around as much as usual in the last few weeks, and I wanted to share the reason why. I've taken some time off to seek treatment for depression.
Nearly 300 million people suffer from depression, and COVID has accelerated this global crisis, as depression rates have tripled in the United States. Suicide is the 10th leading cause of death worldwide, and it has hit too many of us close to home, including those at CrossFit headquarters, following the death of Chad Peyton earlier this year.
Heredity is a major cause of depression. My father struggled with depression in silence, with limited treatment options and significant cultural stigma throughout his life. I have much to be thankful for, but I have not been spared some of the challenges he faced.
Although it is uncomfortable for me to be so transparent about my journey, I have decided to talk about it openly rather than avoid these tough conversations, so that my experience can help to destigmatize mental health issues and encourage healing.
There are many others who continue to struggle in shame or in silence, so if you or someone in your life is dealing with depression, please don't wait to ask for or provide help. Contact your manager or our human resources team so we can support you and help you get the resources you need.
More broadly, I am grateful for the role CrossFit has played in assisting those dealing with conditions such as depression, PTSD, addiction and anxiety, and I look forward to building on that work together. There are countless examples of CrossFit's positive impact on mental health in gyms around the world, and I have personally benefited from both the workouts and the community support during my own journey. In addition, events such as the Chad 1000x of the past weekend help raise funds and awareness for affected members of our community.
On a personal level, I want to thank you for your commitment to CrossFit, your friendship and your hard work. These last few weeks have reinforced how strong our team is: the leaders stepped up immediately and we didn't miss a beat.
Although the road is not always easy, I feel positive about my progress, and will be increasingly committed in the coming weeks. In the meantime, I deeply appreciate your support, and hope to see you soon.
Eric Roza
He discovered CrossFit in 2008 after a running injury and being diagnosed with high cholesterol. Both problems disappeared after 6 months of CrossFit.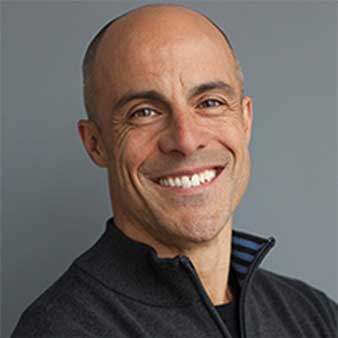 A technological genius
He was CEO of Datalogix, a technology company that uses digital media and offline shopping data to provide analytics and meaningful information to retailers. In 2015 it was acquired by ORACLE for €1.2 billion..
During his time as CEO of Datalogix/Oracle, he grew to a staff of more than 2,000 employees and became one of the fastest growing technology companies in Colorado. He also appeared in the top 100 most valuable companies in magazines such as Fortune and Outside.
He devoted part of his time to investing and advising other companies.
In summer 2019, Roza announced his retirement to be able to spend more time with his family.
Roza's Business
The list of companies that Eric Roza has been involved in or currently owns is an indication of the economic power that has led him to be able to buy CrossFit.
| Company | Title | Start | End |
| --- | --- | --- | --- |
| Oracle | General Manager and SVP | 2015 | 2019 |
| CrossFit Sanitas | Owner | 2012 | |
| TrueCoach | Chairman | | |
| Datalogix | CEO | 2007 | 2015 |
| Asurion | General Manager | 2003 | 2006 |
| i-drive | EVP | 2000 | 2001 |
| DIVA Systems Corporation | SVP | 1996 | 1999 |
| Intuit | Product Marketing Consultant | 1995 | 1996 |
| EMI Music | Manager, Strategy & Planning | 1991 | 1994 |
| Bain & Company | Consultant | 1989 | 1991 |
Some of its recent investments have been:
President at TrueCoach
If you are not familiar with TrueCoach, it is an app used by training platforms to manage athletes and track them.
Eric Roza contributed, together with SpringTime Ventures, a capital of $2 million in July 2018.
Owner of CrossFit Sanitas
Eric owns CrossFit Sanitas, one of the oldest boxes, founded in 2012.
This is a true business and technology genius whose goal is to bring the CrossFit brand back to where it deserves to be. Will he succeed?