By now you have probably realized how important it is to keep your hands in good condition for training. Beyond the fact that at home they complain because when we touch them we "scratch".
The fact is that even if we use calleras for gymnastic exercises with the accumulation of sessions the most usual thing is to have rough hands prone to injuries.
I am sure you are interested in learning this simple prevention routine, which will help you not to skip sessions because you have "open hands". In this post we talk about all the tips and tricks.
CrossFit Hand Maintenance Routine
As in almost everything in life, prevention is better than cure. These steps will keep your hands in the best possible condition to minimize the likelihood of injury.
File calluses
The objective is to keep the calluses as thin as possible, because the thicker they are, the more likely it is that this skin will be lifted.
This is key, that's why we want to have them fine and for that the best thing to do is to use a sandpaper.
Velites has this model designed precisely for crossfitters with two files:
the stone for small hardnesses
the thicker rocky for larger calluses
Stone callus sandpaper
*Using the coupon ANABELPUMP for -10% on your purchase
Interchangeable sandpaper system
Stone Sandpaper
Rocky Sandpaper
You can start with the rocky which is more aggressive and when you have removed much of the excess skin, finish the treatment with the stone.
The design of the sandpaper, reminiscent of the handle of the skipping rope and serves as a protection for the file, so you will prevent it from breaking if you carry it in your backpack with a lot of other things.
The sandpaper requires minimal maintenance. Periodically, brush it with an old brush to remove the encrusted skin and extend its useful life.
Moisturize and repair hands
The another important point is to avoid having dry hands.The result is that it is much easier for them to crack in this way.
You can use any moisturizer you have. I would like to recommend the Velites because it is 100% based on natural ingredients and includes propolis, which is a natural antibiotic. from bees.
This cream can be found in two formats although the product is the same.
Balsam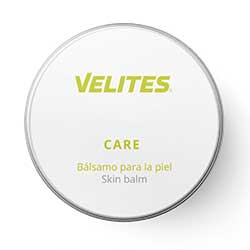 *Using the coupon ANABELPUMP for -10% on your purchase
For hands, feet, shins, shoulders or calves.
Stick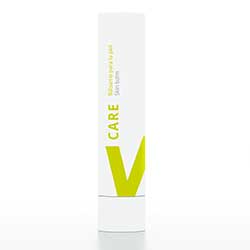 *Using the coupon ANABELPUMP for -10% on your purchase
Stick format for easy application.
If you opt for the cream you can use it more easily on other areas of your body. You know we get crippled everywhere: arms when you do ring muscle ups, shins from the weightlifting bar, some burns from lowering the rope....
How often do you do hand care?
This routine is recommended to be carried out 1 time per weekThe amount of training you do will depend on your training volume and the condition of your hands.
Remember that the objective is prevention above all, because once the callus is already open, even if we use the cream to try to accelerate the healing process, the damage has already been done.
Uses callipers
It is true that it can be very strange to put something between your skin and the bar..
I remember the feeling at the beginning, it was like losing control and confidence. But the use of callipers is highly recommended, as they are the only protection for your hands.
Your hands suffer a lot and if your workouts accumulate quite a few hours of training per week, give yourself time to get used to using them.
Go little by little, take a look at the ones that your colleagues in the box have to see which one suits you best, since there are many models.
How to cure open hands
Even if we have been very careful using calluses and have our hands well cared for with the callus routine, sometimes we get one of those. crossfit wods a little bit crazy that accumulate many repetitions of gymnastic exercises, or kettlebell, or rope climbs... And it is with these types of exercises in particular that the hands suffer the most and you can exceed their limits.
You're giving it your all and suddenly you notice something, you lift the callera and surprise, open hand. At that moment you get a little pissed off and try to finish the WOD in the best possible way. Those of us who are less brave withdraw and end the session.
Once the injury is done is when you realize that for practically any exercise you are bothered by having your hand open and it's a nuisance!
So the only option you have left is say goodbye for a couple of days to training in the box or train with the injury by doing exercises that do not bother you too much such as squatting, running, etc....
Attention
For any injury you may have, it is always recommended that a doctor make a diagnosis and recommend the most appropriate medications or creams.
Should I cut the skin of the callus?
When a piece is left dangling we should leave the piece of skin attached to the hand as long as possible. although it will depend on how tightly it is held. There will come a point where it will it will dry and that's when we should cut it.
Attention
Never pull on the raised skin of the callus, if you do it can end up peeling off more skin and is very painful.
Should I prick the blood vials?
If you have developed a blood blister, ideally you should do not prick it. The body will reabsorb the blood and if you rest, it will eventually disappear. The problem here is that no crossfitter is slowed down by a blood blister and will keep training until it bursts.
To try to accelerate the healing process, you can use a star cream among crossfitters: the Blastoestimulin or Blastoactive
Sales
It accelerates the healing process, however, not to be abused, since contains antibiotic and ingredients that are harmful to our health.
Example of treatment with Blastoestimulin / Blastoactive
Wash the wound and apply the cream at night when you go to sleep so that it can act for as long as possible. During the day, keep the wound uncovered so that it recovers quickly.
The ointment is effective, in just one night you will see how much you improve, but I repeat, it is not advisable to abuse it, and you should replace it quickly with one of the creams that we have recommended above and that do not contain antibiotics, regenerative creams.
If you prefer to stay in the natural 100%, Velites cream moisturizes and regenerates with natural ingredients and without antibiotics.
Example of treatment with Velites regenerative cream
I do not know no crossfitter with soft hands and pretty so even if it's not with injuries, say goodbye to your princess hands because doing CrossFit and having pretty hands is proven to be completely incompatible.
But you know what? It's worth the sacrifice. Proudly show off your hands that demonstrate all the hard work you've put into the box.