It is curious that Greg Glassman to put girls' names to these wods that are so long-suffering. We all hear the name of a "girl" in the box, and we already put our hands on our heads. And kelly in particular seems to me to be one of the hardest because it combines my two worst moves: running and wall balls. The wod is completed with some box jumps in the middle so that your heart rate doesn't drop too low 🙂
The Kelly wod is one of the older benchmarks. It was first published on the CrossFit website in 2005.
Wod Kelly
5 rounds of:
400 meter run
30 Box jumps (60/50cm)
30 Wall ball shots (9kg/7kg)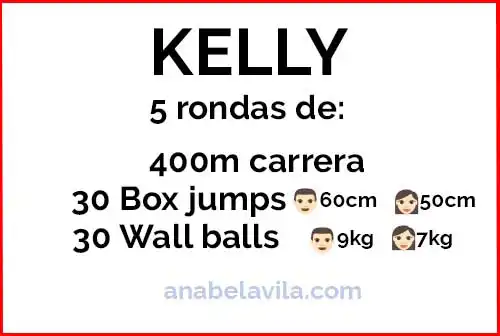 Movements: Career, Box Jump and Wall Ball.
Good weather for Kelly:
- Beginner: 34 - 38 minutes
- Intermediate: 25 - 31 minutes
- Advanced: 19 - 22 minutes
- Elite: less than 18 minutes
Source: WodWell
If you want to record your marks and keep track of your progress I recommend My WODs notebook. You will be able to organize your workouts and have all the benchmarks like this one at hand.
Kelly's Story
Kelly Moore is a former CrossFit worker. who was in charge of specialty course management. She was associated with CrossFit from August 2008 through December 2015 and worked remotely from the city of Madison, Wisconsin.
In 2003, Greg Glassman published a new workout called "Diane" in which Moore did very well. in the RX version with a time of 4 min 30 sec. The most incredible thing is that she performed this exercise weighing only 51 kg. It was then that Greg decided to create a workout called Kelly, in honor of the great result of his worker.
For a benchmark it is clear that it has to be hard, it is one of those wods that you don't forget easily.
Consists of a triplet running, box jumping and medicine ball throwing for 5 long rounds. The movements themselves are not of great complexity as they are exercises that can be done by any profile of person in the box with what you can ask for intensity in the wod. The main problem is the combination of the exercises that are concentrated on the legs, so that there is no muscular rest from one exercise to the next..
Adaptations
The wod does not have a time cap but it is estimated that it should not be longer than 40 minutes. For this reason, it is recommended to adapt it according to the fitness level of each person in order not to exceed this time limit.
Adaptations in workload. 3-4 rounds of work may be prescribed.
Adaptations in the box jump. Those who cannot yet jump comfortably at the height of the box in the RX version can lower it or opt for the step up.
Adaptations in the wall ball. It is possible to choose the weight of the ball with which to throw to the target. This adaptation is the most common instead of lowering the target unless the athlete in question has different limitations.
Get ready for the wod
Sneakers
Considering that the wod is primarily metabolic and that no weight of any kind is touched, I recommend a metcon sneakermetcon dsx, or even a running shoe.
Drawer
Leave your box prepared for when you arrive from the race with the height at which you are going to jump. I recommend you to review how to make a good box jump.
And they say that prevention is better than cure... I recommend that you cover your pimples with some knee pads downs.
Medicine ball
Choose the weight of your ball and leave it ready on the wall.
How to make good time?
As in most wods, the most important thing is to know how to manage your energies. So those who know how to maintain a pace that does not force them to make long stops for recoverywill be those with the best time.
If, for example, you finish the first 400 meters too fast and your heart rate is too high, this will take its toll on you for the jumps to the box and you will fall behind another athlete who has chosen a race pace that has not raised his heart rate as much. Everyone knows his possibilities in the race and should not exceed them if he does not want to enter the box and have to wait almost a minute to jump.
Generally, pushing too hard in one of the 3 exercises means suffering in the other two.
Run
The wod starts with a race, not a sprint. Starting too motivated in this exercise means that you have to rest too much to catch your breath before starting the run.
We will not all run at the same race pace. For example, I am the slowest person running in the whole box. If I look at the speed of my teammates when we are doing a wod, I encourage myself and I do not want to be far behind them, then I have regretted it because I have seen how my heart rate passed 200 beats per hour (and I don't need to!!!!).
Know your limits and work at a high intensity that you can maintain for a long wod.
Box Jumps
30 box jumps is a long series, especially if you come from running. Set series that you control.
It is not recommended that you simply jump around and rest randomly without pacing yourself.. Set a number of repetitions that you know you control, allowing you to take a short break to recover and continue.
Wall Balls
You arrive at this exercise with your legs very hot and with rather little air in your lungs, but in the middle of the wod there is no alternative but to keep moving forward.
The thought of doing 30 wall balls in a row without taking a toll on you is quite unrealistic after the box jumps and the race.
How about 3 sets of 10? Or 4 sets of 9+8+7+6? Plan a sequence and minimize the rest between sets..
The wall ball is an exercise where the legs are the main engine, but in this case, taking into account that you do not use the upper body in any exercise, take advantage of the strength of your arms and shoulders to distribute the fatigue.