Have you ever wondered why some athletes wear bandaged fingers?
In this post we explain the benefits of using the tape in CrossFit.
This post contains affiliate links for which we receive a small commission and which in no case implies an increase in the price for you.
What is sports tape?
The tape is a bandage that CrossFit athletes wear mainly on their hands and fingers to protect them from chafing, wounds or calluses.
Unlike the callerasThe tape, which can be put on and taken off in the middle of the WOD, is a single-use tape for each session.
How is it used?
There are no rules for using the tape, but in general these are the most common uses:
ThumbThe hook grip weightlifting movements are completely blindfolded. Although this grip is the most recommended for its safety, it also causes a lot of friction between the thumb and the bar, causing blisters or wounds around the nail.
Rest of fingersThe bar and the wooden rings also generate quite a lot of friction.
Palm of the handfor those people who feel more comfortable with tape instead of calluses.
Bar at grip height. As we have seen in the Open, the athlete is normally allowed to bandage the pullup bar as long as he/she does not use extra hand protection.
Differences between tape, adhesive tape and kinesiology tapes
These three products are often confused as they are perceived as a tape that is glued to the skin, but the difference between them is important.
Band-aid: do not have much adhesive and end up falling off easily.
Kinesiology tapes: are placed by an expert to treat injuries.
Sports tape: is used to protect the hands from chafing caused by certain sports activities.
How to choose a CrossFit mat?
Within all the options we have in the market, it is important to review:
Material
It is important that it is made of a strong, elastic, resistant and hypoallergenic material.
CrossFit is a high-intensity sport where you're going to sweat and your hands are going to suffer. If it's not tough, it won't keep up with your workouts.
If it is too stiff it will not allow you to bend your fingers.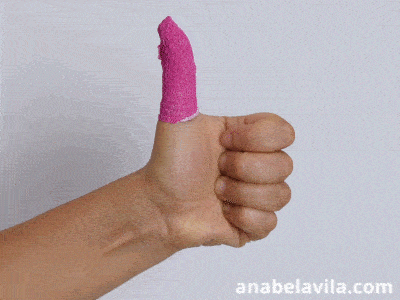 Thickness
Make sure it is several millimeters thick, otherwise it will not offer the protection you need.
Width
It will depend on the area where you are going to use it, but the wider it is, the more it will protect you without having to use several laps.
Cutting system
If you do not want to carry scissors to the box, a good tape, although strong and resistant, has to be cut well with your hands and, although it is typical to use your teeth, I advise against it, the dentist is very expensive.
Where to buy
Baracus is the tape we have used for this analysis. It is made of adhesive cotton, elastic and highly resistant to water and sweat.
It is the only one that includes a carrying tube so that the tape does not lose its properties and is easy to find in the backpack.
There are several colors to choose from.
You have more options on Amazon.
Tape Crossfit, Weightlifting...
- PROTECTION FOR YOUR FINGERS , packs of 3 self-adhesive bandages, which will...
- MORE QUANTITY AND QUALITY : Double thickness of thread and 7 METERS long by 5...
Cheaper tape for CrossFit
Aliexpress is the cheapest place to buy tape, and many other things.
Be careful because cheap can be expensive if the product you receive does not meet quality standards.
A poor quality tape will peel off easily.