Danielle Speegle is a CrossFit athlete who has caused a stir in the sport by sharing her impressive physique on social media.
Biography
Date of birth: January 10, 1993
Height: 1.68 m
Weight: 76 kg
Place of residence: California
Instagram: dellespeegle
2023
Wodapalooza 2023
2nd in the Elite division of Wodapalooza 2023.
2022
The highlight of the Games was winning the sandbag clean with a 250lb/113kg lift and a second place in The Alpaca, which combines sled pushes and 24kg kettlebell cleans.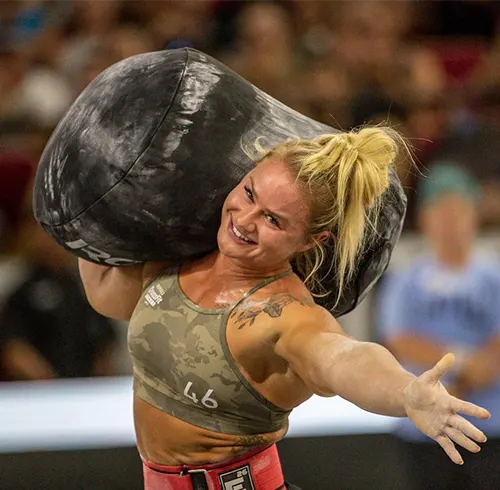 She qualified for the Games after placing 3rd at the Granite Games.
5th place in the individual category at Wodapalooza 2022.
2021
Suffered an ankle injury at the 2021 CrossFit Games that forced her to withdraw.
Qualified for the Games at the West Coast Classic despite suffering heat exhaustion in the backpack race.
She won the TITAN GAMES reality show and multiplied her popularity on social networks.
2019
8th place at the 2019 Rogue Invitational, 2nd place at the Mid-Atlantic CrossFit Challenge and 3rd place at Strength in Depth.
She placed 5th at the 2019 Wodapalooza CrossFit Festival.
Speegle's diet and supplements
She considers herself paleo most of the time. Paleo refers to the basics of nutrition, but with the modifications that allow her to train at a professional level in this sport. She places a great deal of importance on this area of her development as an athlete. She enjoys eating well, planning meals and cooking.
Do not consume processed food, high in refined sugars, sugary soft drinks... keep in mind that these foods only promote the need to continue consuming more of these foods.
As for supplements, she takes BCAAs during and after your workout. Creatine and post workout whey protein shakes.
Dani Speegle Instagram
The American athlete has caused a furor in social networks after posting some bikini pictures during photo shoots or even in competitions where there were swimming tests. Her huge legs stand out and a ? that gets thousands of likes (we already know what sells the most in networks...).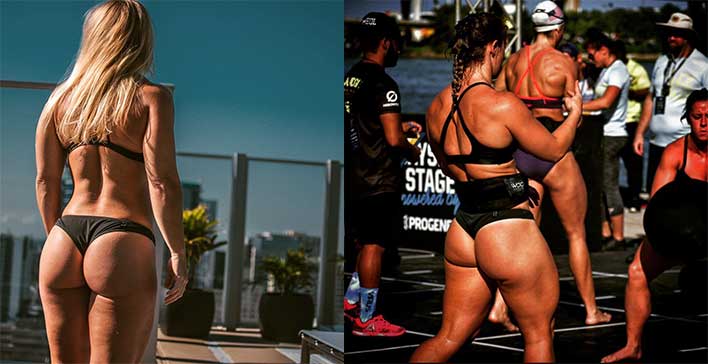 Dani explains that there are no secrets, only with perseverance and hard work you can achieve your goals. She explains that she follows a strict routine, that even if she doesn't feel like training, she continues with the plan in the agenda. Her commitment to her work is the key to her success in the sport.
Before and after Dani Speegle
Before learning about CrossFit in September 2015, Dani loved many sports, especially those that required her to practice outdoors. She did gymnastics from a young age, then tried soccer and later scuba diving. She also tried volleyball and, in general, anything she could get her hands on to stay active because that was what she loved the most.
As stated on her personal Instagram account, the athlete has worked very hard and this is how she explains it:
And just like that ... 3 strong years of CrossFit. 3 years deciding that I want to be better. The changes I've made in my life over the past 3 years have been significant. They have been challenging. They have been difficult at times, but they have been worth it. They have changed my life, they have changed my path, and they have made me the happiest version of myself I could have created.
The picture on the left is just before I started CrossFit. I was still "athletic" but far from healthy. I didn't know anything about nutrition or what it really meant to be healthy. I wasn't confident or really happy with myself. However, without that girl and her struggles, the WOMAN on the right would not exist. The woman on the right is strong. She is happy. She is healthy. She is confident with her body. She smiles more and laughs genuinely. She takes more risks, pursues more adventures; she lives. That was the biggest change throughout my transformation. I began to live life, to really live it and not let the days go by insignificantly. I enjoy every day and every moment. It's amazing the clarity and growth you can achieve when you're not worried about how your clothes fit, how your legs move or how others look at you. It's liberating.
The past year has been a great year for me in terms of nutrition and health and happiness. I have enjoyed the journey incredibly and it has been beyond rewarding. I want to help others feel the way I feel and reach their health, fitness and life goals. It takes one day, one decision, one step towards a gym, one email to ask about nutritional help...one. Take it. Start today. Change your body, change your life, change your happiness.