Emma Lawson is a Canadian athlete of the generation of athletes who has no background in any other sport. She started at the early age of 7 years old.
Age: 17 (January 6, 2005)
Height: 1'65 m / 5'5¨
Place of birth: Kitchener, Ontario, Canada
Weight: 63.5 kg / 140 lb
Instagram: @emma.lawson_5
AffiliateCrossFit PSC
Trainer: @coach.joshwoolley
2022
Rogue Invitational 2022
He achieved a spectacular 3rd place in his first participation, winning 2 events.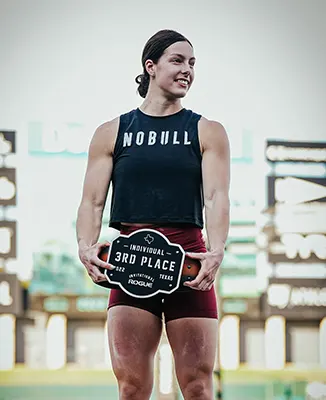 CrossFit Games 2022
He finished in 6th position, even wearing the leader's jersey. He lost the podium on the last day of competition.
She was awarded Rookie of the Year for her great performance in her first year in the top flight.
Semifinals
Wins the Atlas Games Semifinal in Canada and gets his pass to the CrossFit Games 2022.
2021
Dubai CrossFit Championship 2021
Dubai 2021 was the competition where Emma became best known.
In fact, the athlete, who finished in 9th position, confesses that this competition was a turning point in her sporting career, making her gain a lot of confidence.
Fittest teen in 2021
Win the CrossFit Games 2021 in the Teen 16-17 category.
Open 2021
Participated in the Age Group Qualifier and in the individual Semifinals.
She was 9th in the Atlas Games Online Semifinal and had to settle for qualifying for Games in the Teen division.
2020
She was first in the Open in the Teen 14-15 division, but that year the Games were not held in her category.
2019
She was 3rd in the teens 14-15 division of the CrossFit Games.
Year
Games
Regionals / Competitions
World Open
2022
6ª

1st Atlas Games
3rd ROGUE Invitational

102ª
2021
1st Teen 16-17
9th Dubai CrossFit Champ
9th Atlas Games
15ª
2020
1st Teens 14-15
2019
3rd Teens 14-15
5th Teens 14-15
Curiosities
According to his father, his life revolves around CrossFit.
Wake up, train, do cardio, eat breakfast, go to school, come back, do homework, train, stretch, recover, eat dinner and go to sleep.
He has never tasted coffee.
His intention is to complete his university studies because it is clear to him that he is not going to be an athlete all his life and he wants to have a Plan B.
She has a sister 2 years younger than her who practices volleyball.
Supplementation and diet
He usually takes pre-workout only in qualifiers.
She counts her macros to check that she eats enough. His macros are 200 g protein, 525 g carbohydrate and 100 g fat.
Relationship partner
The athlete is romantically involved with her training partner and CrossFit athlete, Jack Farlow.
CrossFit Beginnings
Before learning about CrossFit, I practiced dance and acrobatics.
Her parents had been practicing CrossFit since 2011 and Emma, at just 7 years old, started accompanying them to the box.
He started doing CrossFit Kids and later also trained in the gym that his father set up in the garage.
He decided to start competing at the age of 13.