Danielle is one of the most popular CrossFit athletes in recent years. She shined at the 2021 Nobull CrossFit Games.Brandon made her CrossFit debut in 2019, although her first Open was in 2014.
Age: 27 (August 1996)
Height: 170 cm
Nationality: American
Place of birth: Kennewick, Wash.
Weight: 68 kg
Instagram: @daniellebrandon7
AffiliateCrossFit Culmination
Programming: Brute Strength (from July 2022) Underdogs Athletics (2020-2022)
2022
ROGUE Invitational 2022
9th at the ROGUE, the athlete shares a post on Instagram in which she claims to have won, despite what it may seem in the eyes of people who do not know what she is going through.
In the BACK ATTACK event, she went to the track knowing that she would not be able to complete the event. The athlete missed the first lift and took her time unloading the bar so she could bring it back up.
She was able to complete 2 squats at 275 lb / 125 kg. The most he had ever lifted was 250 lbs / 113 kg a year ago due to a back injury.
Other victories for Brandon were being able to do 80 GHD's in a row without back pain and keeping a good pace on the skierg without dying.
"I may not have been where I wanted to be at the end of the weekend, but I know I've had more wins than you think. And I've learned a lot from them."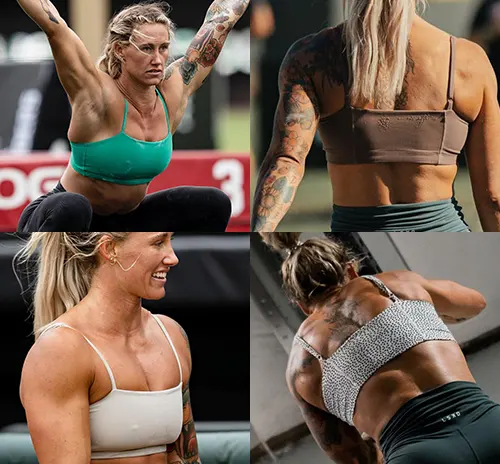 Aoxjox Bandeau sports bra...
XXS for 28A 28B 28C 28C 28D 30C 30D 32A [XS for 30C 30D 32A 32B 34A 34B] [S for...
Low support bandeau sports bra (but some customers said it is...
Brute strength
On September 22nd, Matt Torres (head coach of Brute Strength) uploads a publication on Instagram in which Brandon appears. The athlete would have joined the team in which there are already other athletes such as Dallin Pepper or James Sprague.
CrossFit Games 2022
Danielle achieves her best result so far at the Games, taking 4th place.
Leaves Underdogs Athletics
In July, just weeks before the CrossFit Games 2022, Brandon announced on the Brute Strength podcast that she was leaving the Underdogs program to join them.
Brandon says, "It wasn't something I had planned, only an idiot would leave his programming a month before the Games.". She notes that the decision was not an easy one and that she felt compelled by circumstances, although she does not clearly state the reason.
R.A.D. Athlete
She becomes the first athlete to be sponsored by the new CrossFit shoe brand. For years she had been a Nike athlete.
This agreement is announced at Wodapalooza where the athlete decided not to compete in order to complete her recovery from previous injuries.
2021
11th at the CF Games
Brandon arrived at the Games in top physical shape as we saw in the semifinals, the West Coast Classic , where she finished 3rd.
The American wore a new look at the Games, blue hair, which made her easy to spot among the other competitors.
That year, the American had a bit of a tough time competing.
Her daily training partners Kari Pearce, and Bethany Shadburne were unable to complete the CrossFit Games check-in because they failed the antigen test.. This placed the American in a situation of heightened vigilance: more testing, isolation, a separate lane....
Danielle was able to work under this added stress and managed to finish just outside the top 10 (11th).
She won event 8, a handstand walk race with several obstacles.
Brandon became the athlete who gained the most followers on Instagram during the CrossFit Games 2021, with more than 77,000.
2020
In a year severely affected in the field of competition, she achieved a 3rd place at the Mayhem Classic Sanctional and 15th in the first online stage of the CrossFit Games.
After failing to get one of the 5 spots to compete, she was invited to be part of the CrossFit Games demo team. This selected group of athletes are the ones who test and demonstrate the Games workouts.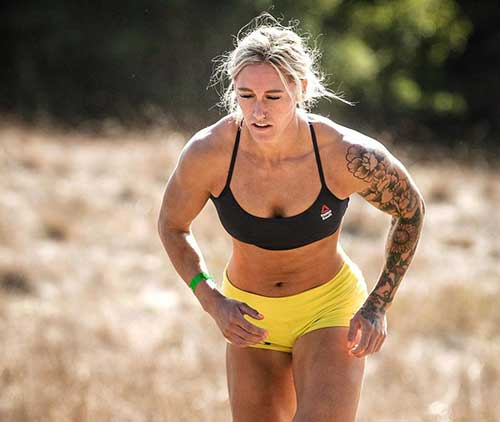 2019 - unfairly out of the finals
Brandon, ranked 11th, was unable to compete in the Games final day in which only the 10 best athletes participated.
After the Games were over, it was announced that Ana Fragkou who was in the top 10 and in the final, tested positive for doping.
| Year | Games | Regionals / Competitions | World Open |
| --- | --- | --- | --- |
| 2022 | 4ª | 1st Mid-Atlantic CrossFit | 56ª |
| 2021 | 11ª | 3rd West Coast Classic | 13ª |
| 2020 | 15ª | 3rd CrossFit Mayhem Classic | 36ª |
| 2019 | 10ª | | 16ª |
| 2018 | | | 169ª |
| 2017 | | | 137ª |
| 2016 | | | 114ª |
| 2014 | | | 1109ª |
Sport experience prior to CrossFit
Brandon competed in high school in track and field, pole vault and gymnastics.
Agreements with brands
Brandon's boom can only be compared to that of Sara Sigmunsdottir in its day.
The American has become the best known face of the brands that sponsor her. They are counted by: