Mal O'Brien was CrossFit Games Rookie of the Year 2021 and, at only 18 years old, the youngest person to win the Open.
Age: 19 (2003)
Height: 160 cm
Nationality: American
Weight: 61 kg
Instagram: @malobrien_
Affiliate: 802 CrossFit
Programming: HWPO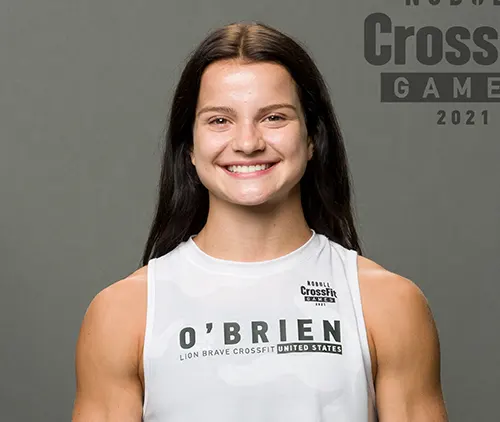 2023
End of the season
She announces that she will not participate in Semifinals, saying goodbye to the 2023 season. Mallory was one of the favorites to become the winner of the CrossFit Games 2023.
"Sometimes, we face personal challenges that demand our attention and care. It is important to prioritize our well-being and embrace the support of loved ones."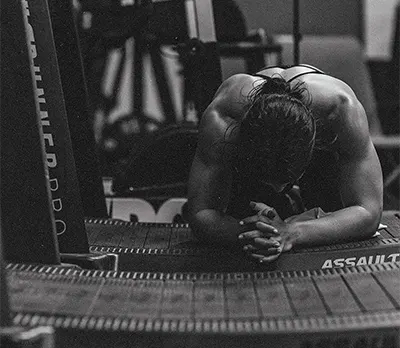 CrossFit Open 2023
Repeated victory in the Open for the second consecutive year.
Results
23.1: 2ª
23.2A: 1ST
23.2B: 107TH
23.3: 5ª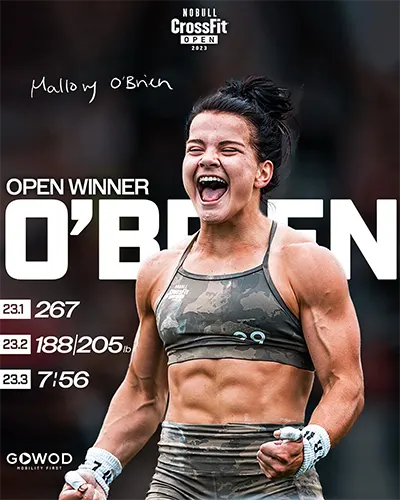 Wodapalooza 2023
She teamed up with Katrin Davidsdottir and Annie Thorisdottir and finished in second place tied on points with the winners, the team of Laura Horvath, Gabriela Migala and Jamie Simmonds.
2022
ROGUE Invitational 2022
It is surprising that Mallory O'Brien is not among the confirmed participants for this event.
CrossFit Games 2022
She finished the first and second day as leader of the stacked leaderboard. Finally, she finished 2nd, a spectacular result for such a young athlete.
Granite Games
She is proclaimed winner of the Granite Games with a great exhibition.
She was due to compete in the Atlas Games in Canada, but was finally moved to the Granite. Without specifying reasons, it is rumored that it could be due to vaccination restrictions to enter the neighboring country.
Quarterfinals
First in the North American region.
Open 2022
She won the Open by smashing the average position record with 1.3 (1st,2nd,1st) which until now was 3.2 and belonged to the English Samantha Briggs which was achieved in 2013.
In addition, she becomes the youngest athlete in history to win an Open at 18 years of age. Until now, this title was owned by Annie Thorisdottirwho won it at the age of 21.
After deciding to join Mat Fraser (HWPO) moves to Vermont to train under the guidance of the five-time CrossFit Games champion.
2021
Rogue Invitational
Receives invitation to the ROGUE Invitational and finished 8th.
CrossFit Games 2021
Won the title of Rookie of the year after being 7th in CrossFit Games 2021. It was her first year competing in the top division, although she already had experience as a teen.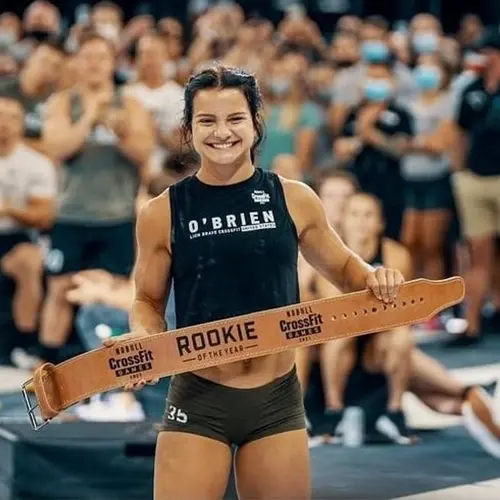 Won event 4 in the Coliseum with a distance of 30 seconds over Tia-Clair Toomey.
Granite Games
She qualified for the Games with a second place in this Semifinal in which she won 3 events and came 2nd in 2 others.
Just before the start of this competition, NOBULL announced that Mallory was joining its group of sponsored athletes.
Open 2021
Achieves a spectacular 5th place worldwide in the 2021 Open.
2020
For the first time she decides to take a sabbatical year to let his mind and body recover.
The athlete claims that she spent more time in the gym than at home and that this situation led to a low level of performance and overtraining.
Lyme disease
After several tests, she was diagnosed with Lyme, a disease whose effects can persist for months or even years after treatment.
Living with the tick-borne disease has been described by survivors as inhumane, painful, surreal, exhausting and isolating.. "When my symptoms were at their worst, I was not functioning well in general, at all."says Mallory O'Brien.
"I had many different problems, none of which seemed to be related, and I think that's why the doctors had so much trouble coming up with a diagnosis. The symptoms that affected me the most were headaches and exhaustion. The headaches were severe, daily and lasted all day long.." - O'Brien said.
The Lyme disease can be difficult to diagnose.O'Brien was diagnosed with the disease, as the typical symptoms mimic other conditions such as fibromyalgia, chronic fatigue syndrome, Parkinson's and Alzheimer's diseases. Finally, with much perseverance and the help and support of her family, O'Brien was correctly diagnosed and received treatment to begin the recovery process.
"After more than a year of going to different doctors and specialists trying to diagnose my symptoms, I learned in early 2020 that I had Lyme disease. I received treatment for Lyme in the spring of 2020, and it has changed my life for the better." - O'Brien commented.
2019
Finished 5th in the teen 14 - 15 division of the CrossFit Games 2019..
She left Elijah Muhammad to join Townsend's Program.
Under Towsend, her Olympic lifting numbers would improve considerably, lifting 104 kg clean & jerk and 82 kg snatch with a body weight of 63 kg..
2018
In her first ever participation in CrossFit Games managed to finish 4th in the teen 14 - 15 division.
Before CrossFit
O'Brien practiced gymnastics since she was 3 years old and it was there that she developed his competitive drive. Later on, this would be transferred to track & field achieving several successes.
She ended up getting bored of those sports and tried to find new paths in different areas. Volleyball and dancing, among others.
At age 10, O'Brien accompanied her mother to a class at CrossFit Max Oxygen in Des Moines, Iowa. She quickly fell in love with the sport and realized she had found something special. At 14, she began competing.
Mat Fraser has commented that when Mal O'Brien was a child, she would wait in the parking lot for 4 hours for CrossFit athletes to come out so she could greet them, one of her favorites was Katrin Davidsdottir, a current training partner.