Aniol Ekai is a Spanish CrossFit athlete who has won the Open in 2022 and has been second "Fittest in Spain" on 3 occasions.
Age: 24 (1998)
Height: 186 cm
Place of birth: Pamplona
Weight: 94 kg
Instagram: @aniolekaib
Affiliate: CrossFit Zarautz
Programming: Training Culture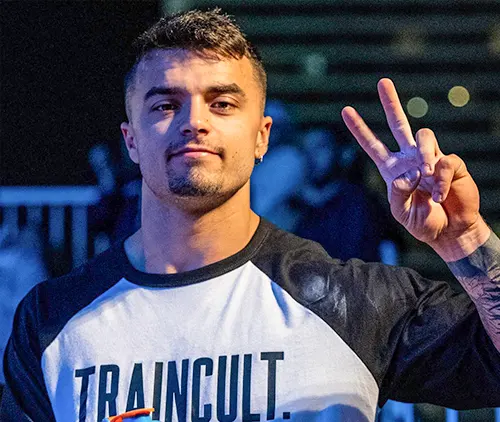 2023
Open
Finishes as winner of the Open in Spain.
2022
Dubai Fitness Championship 2022
6th overall in the most important competition in which it has participated.
The first event began with a spectacular second place in the ascent of the Burj Khalifa and was secondeven though we thought he had been first, in event 5.
However, 4 events outside the top 10 left him with no chance of a podium finish.
Madrid Championship 2022
Finishes second in the first competition to be held again in the Caja Mágica.
He won the last wod which catapulted him from 5th to 2nd place. There was controversy in the last wod for the execution of his DB Thrusters and David Shorunke3rd place, made his complaint public on Instagram.
The youtuber Andrew Hiller shared a video with some of the problems with the judges.
Quarterfinals
He does not participate in individual Quarterfinals to do so in teams, however, his team is eliminated before participating in the Team Quarterfinals for not meeting the eligibility criteria.
Open 2022
He achieved first place in the Spanish individual rankings.
Wodapalooza 2022
He competed in the elite team with Alexander Anasagasti and Pablo Cazalis, finishing 7th.
He participated in both competitions in Madrid. He is 7th individual in the Madrid CrossFit Championship and 2nd in team where he debuted along with teammates Sara Alicia Fernandez, Helena Avendaño and Martin Cuervo.
Programming change
He starts 2022 by announcing that he is changing his training program. He leaves 77feet in Blanes and moves to the Basque Country to train with the Training Culture team.
2021
Wins the Fittest Freakest Challenge.
Finished 13th in the Semifinal Online German Throwdown becoming 2nd Fittest in Spain 2021.
Passed the 2021 Quarterfinals cut-off in 51st position.
2020
He participated in the Sanctional Norwegian CrossFit Championship and came in 17th place.
Year
Games
Regionals / Competitions
Open
2022
-
Wodapalooza 7th Team
Madrid CF 7th
Madrid Challenger 2nd Team
1st Spain
2021
-
Fittest Freakest 1st
Online German Throwdown 13th
3rd Spain
2020
-
Norwegian CrossFit 17th
2nd Spain
2019
-
Enfit Games 1st
17th Spain
2018
-
69º Spain
Personal stats
| Movement / WOD | Stats |
| --- | --- |
| Back Squat | 205 Kg |
| Clean | 163 Kg |
| Clean & Jerk | 160 Kg |
| Snatch | 126 Kg |
| Deadlift | 250 Kg |
First time in CrossFit
In February 2017 he resumes training, but it is not until May that he does so with more regularity and commitment.
In 2015, he tries it again, and again he lasts 2 months.
His first WOD was in 2013. He signed up during the summer months with the goal of supplementing it with soccer and then quit.
Before CrossFit
At the age of 15, he started playing soccer.
He started judo at the age of 5 and reached blue belt.